During the battle weekend Dancing Queen will, just like the last 3 years before host work shops at Studio Dancing Queen.
Below you find a schedule and a presentation of the classes and instructors.
Remember that alla entries are conclusive. You need to book your spot in advance!
Please bring cash to the studio to pay for your work shop.
To book a spot; email studio@studiodq.com
All work shops are 350 sek/each
11.00-12.30 Bendy Kate 'Bendy's Pole Acrobatics' 90 min FULL
12.30-14.00 Bendy Kate 'Spinning Around the World' 90 min
14.00-15.30 Nico Modestine 'Conditioning & Strength' 90 min
15.30-17.00 Ilka Bardóczy 'Motion and emotion' 90 min
13.30-15.00 Nico Modestine 'Super Handspring' 90 min
15.00-16.30 Bendy Kate 'Bendy's Pole Acrobatics' 90 min FULL
16.30-18.00 Bendy Kate 'Make me Bendy!' 90 min FULL
Bendy Kate 'Bendy's Pole Acrobatics'
In this workshop Bendy focuses on the gymnastic element behind pole fitness. Pole conditioning (with a difference!) How to conquer and progress arms only moves (eg twisty grip, elbow grip....)
Flexibility tricks on the pole (chopsticks, jade...) Power moves including; flag inverts, lever ups, cartwheels, somersaults (all on the pole don't worry!) All with step downs, training tips and progressions for each one! Hand balancing with the pole. Acro partner assisted stretching
This class is ideal for pole dancers who enjoy a challenge and executing the more gymnastic pole moves. For intermediate to advanced pole dancers. You must be able to competently invert to attend this class.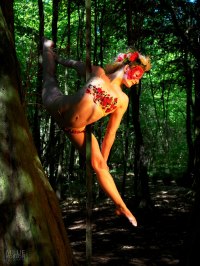 Bendy Kate 'Spinning Around the World'
Learn Bendy's signature static and spinning pole spins from her latest performances.
Tips and advice on gaining momentum on a static pole. Static spins including; her flare reverse grab, the Chaundy Chair, phoenix progressions and her graceful repertoire of contemporary spins.
Gain trust and confidence on the Spinny pole. How to combat motion sickness!
Spinning pole tricks including; how to run using a spinning pole, how to transition seamlessly from one spin to another and choreographing spins to music.
This class is ideal for polers who love spins and admire the fluidity of movement in pole on both the static and spinning. All levels welcome!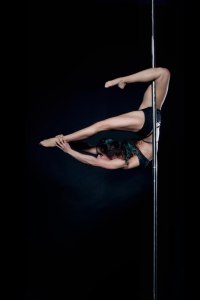 Ilka Bardóczy 'Motion and emotion'
The workshop starts with a playful warm up to make ready both our bodies and minds.
Then we stretch and I show you a few releasing practices and some hardcore
pole power training-moves to have an active flexibility.
In the main part of the WS we go through some of my favorite tricks and combinations which are all about power and flexibility on the pole. I will also give you some exercises on the floor.
The WS includes double-tricks!
We conclude with a relaxed stretching so you can leave the class with a tired body but with a fresh mind (and with some new movements in your repertoire). All levels are welcome!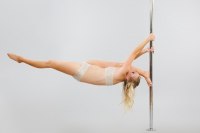 Bendy Kate 'Make me Bendy! '
Want to learn the secret behind the nickname – Bendy Kate?
Bendy shares all her gymnastics and sports physiology knowledge to help improve your flexibility.
The masterclass will begin with tips and advice on training splits. Learn her repertoire of flexibility pole tricks from jades to chopsticks. Flexible floor work onto and off of the pole. Raise your heart rate and body temperature to create ideal conditions for a thorough splits stretch. Partner assisted stretching (really fun ways to improve flexibility). Side/box split stretches and technique
Over split training (if needed). Back bending.
Available to all levels even non pole dancers are welcome! Ideal for individuals looking to improve their flexibility and muscular performance.