During the battle weekend 21-22 january Dancing Queen will, just like the last 2 year host work shops at Studio Dancing Queen.
Below you find a schedule and a presentation of the classes and instructors.
Remember that alla entries are conclusive. You need to book your spot in advance! Please bring cash to the studio to pay for your work shop.
To book a spot; email bokning@studiodq.com
Pole room
10.00-12.00 Conditioning for Pole Control Justine 2hrs 550 sek
13.30-14.45 Signature Tricks Intermediate/Advanced workshop Val 75 min 500 sek
14.45-15.45 Flexibillity Alex 60 min 350 sek
Dance room
12.00-13.00 Chair work Shabba 1 hr 350 sek
13.00-14.30 Extreme Flexibility Justine 1,5 hrs 500 sek
Pole room
13.00-15.00 Signature Tricks & Technique Justine 2hrs 550 sek
Dance room
12.00-13.00 Flexi-v-lity Soft and extreme stretching Val All levels 60 min 350 sek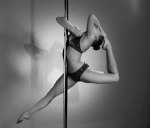 Conditioning for Pole Control (2hrs) JUSTINE 550 sek
Justine is well known for her fluidity, control and seamless transitions. This workshop aims to develop strength through a series of conditioning exercises on the pole to help you to take complete control over you pole when dancing. The workshop will end with a number of tricks combinations (both static & spinning) where you can apply Justine's techniques for control – the result being a performance that looks easy with you in total charge of your pole not the other way round!
Signature Tricks & Technique (2hrs) JUSTINE 550 sek
It is obvious when you see Justine perform that she has a long history of classical ballet training: her exquisite technique & precise movements are what make her shows so beautiful to watch. Justine will cover precision of grips & placement, with detailed breakdowns of how to execute some of her favourite and signature tricks with correct technique.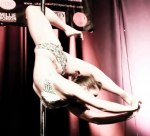 Extreme Flexibility (1.5hrs) JUSTINE 500 sek
With her favourite tricks being Downsplits and Contortion Ballerina, it is no surprise that Justine has a rigorous training regime for stretching. This workshop will cover essential small and large muscle group stretching and lead into specific developmental stretching for Shoulders, Back & Back contortion, Splits and Oversplits, Hips and Boxsplits. (This
workshop must be taken last in your series due to the intensity of stretching.)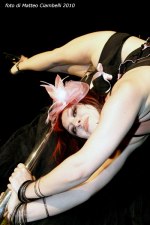 Signature Tricks VAL Intermediate/Advanced workshop (75 min) 500 sek
In this workshop you will learn how to execute Valeria's favourite tricks, how to get in and out of them smoothly. She's a very patient and precise instructor and she will be happy to answer your questions. You'll focus your attention on achieving perfect lines and preventing injuries.
There will be a warm up session, tips to increase your strength and flexibility, and a relaxing cool down at the end. This is a barefoot class, both intermediate and advanced levels are welcome!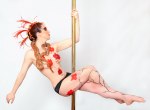 Chair Work Céline Le Gall 60 min 350 sek
This Cabaret Worshop originates from the burlesque and music-hall tradition, using mainly the chair as a prop.
We'll learn to sit in elegant ways, jump over, walk with and around it, spin it, throw it and, the acrobatic part: walk over it knocking the chair off. Adapted for a level - even beginners.