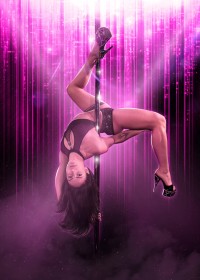 Welcome to the 8th annual
European Pole Dance Championship
Battle of the Pole

We will provide you with all the information you need leading up to the big event. Mark your calenders for October 6th, 2018 because you don't want to miss this!
Battle of the Pole is a entertaining evening with a exciting competition, showcasing the best pole dance talent of Europe. 26 competitors (15 Lions/Lionesses, 5 Kittens and 3 doubles Lions/Lionesses) will be chosen and given the chance to not only win the Battle but also take home amazing prizes.
Welcome to Stockholm, Sweden Octobert 6th, 2018!
19th of September 2018
We are exhited that Amazing Event will sponsor the sound during the night!

17th of September 2018
Work shop schedule is updated.

16th of September 2018
Last battle winner Anastasia Akentyeva is our forth judge!

15th of September 2018
All the Lionesses are announced!

13th of September 2018
Dragonfly will sponsor the event.

10th of September 2018
All the Kittens are announced!

4th of September 2018
Barebells protein bars will sponsor the event.

1st of September 2018
Workshops are up!

19th of August 2018
Pole & Me will sponsor the event.

10th of August 2018
Vane Lunatica is our third judge!

7th of August 2018
Nocco will sponsor the event and also be there to demo.

1st of August 2018
Ticket sales are open.

30th of July 2018
Josh Taylor is our second judge!

25th of July 2018
Applications will stay open to 27th of August.

1st of July 2018
Applications are open!

30th of June 2018
Dimitri Politov is our first judge!

28th of June 2018
We will open up a doubles division for this years battle, and welcome 3 double pairs in the Lion/Lioness category!

10th of March 2018
ONLY 400 hundred tickes will be released for audience, so hurry to buy yours. Ticket release date 1st of august 2018.

1st of March 2018
We have a new date! October 6th 2018 the 8th Battle will be happening at Pelarsalen in the very city center of Stockholm, Sweden.