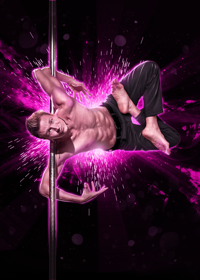 Welcome to the 7th annual
European Pole Dance Championship
Battle of the Pole

We will provide you with all the information you need leading up to the big event. Mark your calenders for November 6th, 2016 because you don't want to miss this!
Battle of the Pole is a entertaining evening with a exciting competition, showcasing the best pole dance talent of Europe. 20 competitors will be chosen and given the chance to not only win the Battle but also take home amazing prizes.
Welcome to Zürich November 6th, 2016!
Livestream
The event will be streamed live
HERE
______________________________________________
20th of September 2016
Announcing the competitiors alphabetical order:
Lions/Lionesses:
Anastasia Akentyeva / Anna-Maija Nyman
Céline Reverchon / Fabienne Odermatt
Giada Accorti / Laetitia Baccara
Natascha Waage / Tatiana Cheba
Kitten:
Christa Menzi / Daniela Huber
Maria Postiglione / Nathalia Oberhänsli
Przemek Dlugolecki / Sandra Maier
Silvia Zeisel
16th of May 2016
Announcing our first judge for Battle16; Anastasia Skukhtorova, Russia.
25th of April 2016
We have a new date! 6th of November the 7th Battle will be happening in Zurich.
_________________________________________________
8th of March 2015
Results are out!
1st of March 2015
We thank all the competitors, judges, sponsors and audience for this year! Congratulations to the winners
Kittens; Daniela Belletato
Lion; Dimitry Politov
9th February 2015
There are discounts for competitors and spectators at
Absolutum Boutique Hotel ****
in Prague. Don't forget to make reservation on time.
Hotel is situated approximately in 10-15 minutes from the
Roxy club
as well as from
Pole Heaven Studio
where you can visit workshops.
Mist Stockholm, , Pole Move Box, Poleshop.de, Mighty Grip, MM Sports, Make Up Institute, Sexy by Sweden, Hair By Nielsen, Fusion for Polefitness, Engelbrecht's blommor, Orofluido, Ellies Hudvårdssalong.

See you next year!